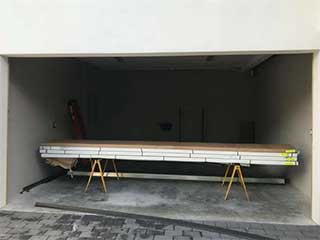 Painting your garage door is a great way to both maintain its condition and improve the visual aspect of your home. It will give your home a fresh, beautiful look, and may even revitalize its curb appeal. It will also benefit the panels, as it will help protect them from the elements and the regular wear and tear they go through. There are some things to consider before getting started.
Choose The Best Time
Since you will be working outside, the weather conditions matter a great deal. Try to pick a day which is neither too cold nor too hot, and avoid excessive wind and any rain. It is recommended not to paint in direct sunlight, but since this may not always be possible, perhaps choose an early time of the day or late in the afternoon.
Use The Right Paint
The paint you choose will vary depending on your door material—wood will need a different kind of coating than steel or aluminum. Make sure to choose one that is suitable for outdoor conditions, and choose one which includes a primer as well if possible. This will save you the hassle of applying it beforehand. Remember that paint often needs to be applied several times and that you will have to wait for it to dry before slapping on another layer, so plan ahead carefully.
One More Step
Before you start, it is recommended to sand a wooden door or brush a metal one with a wire brush, followed by washing the surface with water and soap and letting it completely dry off. This will give you a clean, receptive surface to paint on. It is also advisable to cover anything you do not want to get paint on with tape or a piece of plastic as well as lay out a cloth or a plastic sheet on the ground to catch drippings.
The Right Tools
Once the paint and the time have been chosen, it is time to actually paint the door. Keep two brushes and paint rollers on hand—the former will be good for filing in small crevices and spaces, while the latter will help you spread an even coat up and down the rest of the door.
Get To It
A freshly painted garage door will look stunning, and the end results will definitely be worth it. This can be a fun project that can satisfy both you and your children. If you happen to find something wrong with your door while painting it, quickly reach out to our experts at Garage Door Repair Coral Springs to have our technicians come and fix it.